Juicy Fruits slot explodes with an amazing $210,000 win during The Adam's Hour on the DeuceAce channel stream. With Wild symbol expanding gradually to cover almost the entire slot grid, Adam managed to land almost a quarter of a million dollars in just 14 free spins.
The bonus round started with regular 6 free spins and a Wild symbol that was 1×1 in size. However, on the very first spin Adam landed 3 Diamonds aka scatters, an action that added extra 3 spins and increased the Wild symbol to the 2×2 size. The next 2 spins were also lucky for him as they brought in 3 additional Diamonds and rewarded him with another batch of 3 extra spins and even bigger Wild of 3×3.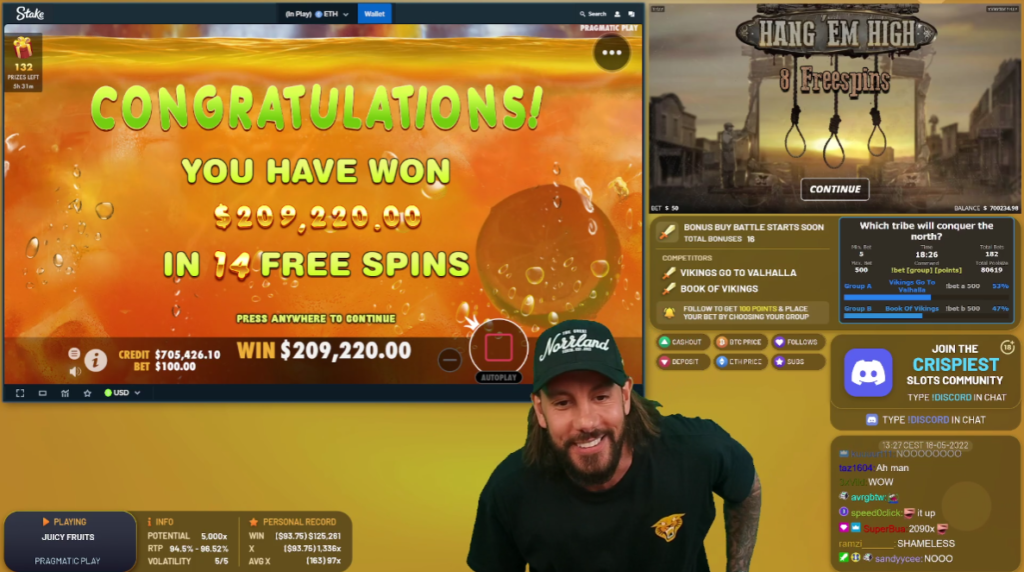 However, it was with the next upgrade that the slot really started bringing in the cash. The Wild got to the size of 4×4 and with 8 free spins left, both Adam and the viewers knew things were about to go crazy. They started POG-ing in the chat, hoping for the max win which is 5,000x the bet. Unfortunately, that didn't happen but 2,092x and $209,220 is far from a bad score.
Actually, this new win marked a new personal best for Adam on the Juicy Fruits slot by Pragmatic Play. Before this win, his biggest win was $125,261 while the highest multiplier he ever reached spinning these reels was 1,336x.
Breaking personal records and reaching new casino streaming heights is always fun! From the moment this bonus round started Adam's smile grew bigger and bigger. Although he was a bit disappointed he didn't win one more Diamond and prolonged the bonus round, it was still beautiful gameplay! To make things even more crazier, it was his 4th personal best of the day!